Let me begin this post by stating categorically, I will forget someone, and this is not with intention. It also only notes people who I saw this year, and not those who were missing (Padraic and Patrick, Midori and many more). The reason we want to go to IMEX is for the face to face connections. Those that happen due to the appointments and the serendipitous aisle and networking function spottings which often lead to great conversations, and the inspiration to be found in both expected and unexpected places. Here are a few of my favs from this year.
BTW - this is LONG - so pull up a beverage, and think about who you want to add, and please comment and add!
Ray Bloom and Carina Bauer have been integral to the success that was first IMEX Frankfurt and is now both this and IMEX America. I deeply appreciate that at the beginning and the end of each show, Ray is omnipresent saying welcome and thank you to all. It is this warmth and interest that extends throughout his team.
QuickMobile and Lumi support MPI Foundation!
QuickMobile is the amazing team I have most recently joined and one I am enjoying being part of. Yes, we build the app for IMEX, and I think it is pretty special in terms of what it provides to participants. As a meeting planner, seeing how this team seeks first to understand needs and to determine what elements of a mobile event app will be most useful to deliver information and create adoption leading to participation is a source of joy. All members from the Dev team to support and release, QA and project managers and those of us attend the events and those in the office that support all the functions - it is a full bodied team effort.
To be successful today requires deep and seamless integrations based on understanding what will make meetings more meaningful and can be delivered well. With the smart innovations we have with Lumi (some of the great people above) it is one example where we have a deep integration that works because of a shared interest in meetings, and also in having fun, something critical to being successful in this demanding industry. I have met many, and am impressed with all.
Glenn Thayer
The Voice of Meetings and Events
Claire Smith is the VP, Sales and Marketing at the Vancouver Convention Centre and she has been an inspiration to me since I did my Event and Convention Management Diploma Practicum (planning the 2nd Annual Partners in Professional Planning conference) a good number of years ago. Claire was also on the committee when we produced the Welcome Reception on their stunning plaza for the MPI WEC in 2010 - when I felt we had come full circle in my chosen profession. To hear her excitement in discussing her day with the Future Leaders Forum reminded me of the passion she carries still for our industry and her unending fascination with the shifts and trends we face.
Mike McAllen was one of the first people I met through the EventProfs community, and not only is he a honey of a guy, Grassshack Road Productions is a thoughtful production agency, and their AV for Planners offer to help planners better assess AV for their meetings is one of the most interesting tools produced to date. Mike is also the reason we held EventCamp Vancouver which had a profound positive impact on my life - I always enjoy seeing him.
Mariela McIlwraith is a leader in sustainability, having co-authored with Elizabeth Henderson Corporate Social Responsibility and Ethics in the Meetings Industry, a surprisingly easy read for a dense subject and the book I now use when I teach Sustainable Event Management at BCIT. This 30 hour course provides a strong base for the students to filter their events through a triple bottom line model of people, planet and profit. She more recently was the Executive Editor of the ninth edition of the Convention Industry Council manual. This is the key study guide for the CMP and I am proud to have been one of the many contributors to this, with its focus on strategy and sustainability weaving together seamlessly with logistics. More importantly, she stands true to all she believes and who she is, and I always enjoy catching up with her to see what is on the horizon.
Paul Salinger is a shining example of bringing sustainability to an organization, and his work with GMIC over the years has pushed the industry in ways we can embrace. Plus, he is humble, fun and kind - and gives a mean pecha kucha!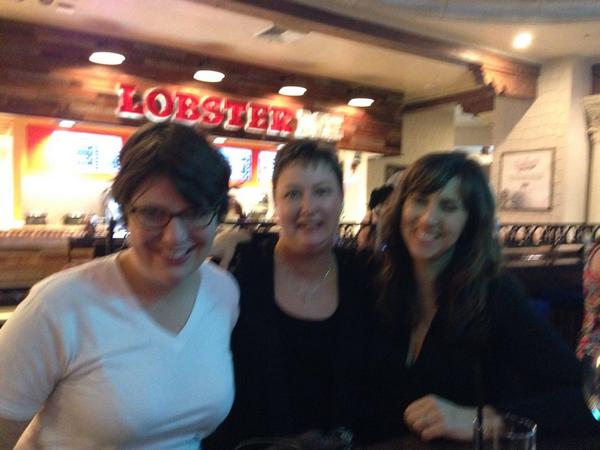 Dr Tyra Hilliard and Jessie States provided one of the best hours of the conference for me in a rather impromptu meeting. They are brilliant, dedicated, funny and true examples of doing what you believe in for your best life. Experts in risk and contracts (Tyra) and meeting design (Jessie) among other things - these educators, best in class speakers and brilliant women are included in those I look forward to seeing time and again. Plus when Mary Boone tweets that she wants to join the party - you know this is a group of power women!
Lenny Talarico is a multi talented man who is a key part of the MGM Events team (yes King I missed you this year). I met Lenny my first year at IMEX and over the years my fondness grows - he is a true professional, a creator, a performer who understands performance, an ISES mentor and CSEP, and their team is always willing to give back - including these gorgeous arrangements at the FRESH dinner on Tuesday night.
Brennan McReynolds provided one of my highlights of the week when another tech firm did not recognize the EventFarm brand and I was treated to a most excellent repartee which included alpacas and holsteins among other animal friends. Thank you for that! I first met Brennan at PCMA Convening Leaders this year when he used his other skill set to help planners figure out ways to add more health and fitness to their busy lives in an activation with the Vancouver booth there. What I learned is that he knows a lot about my favorite subject - the intersection of humans and technology to improve meeting experiences.
The IMEX team members have proven themselves year-over-year to be willing to challenge themselves. First with education,
Dale Hudson and her team have selected excellent programming, and then have created a warm and easy atmosphere for the speakers. Richard Allchild and Achilleas have been my main contacts throughout the years I have been coming to IMEX and every interaction has been professional and productive, with a little bit of good humour along the way. Suzanne Medcalf showed her good sportsmanship riding the bike with us in Vancouver last year, and has once again proven her teamwork and enjoyment in the job this year through a number of interactions. Miguel Neves has brought new meaning to the social and online communities that make up IMEX, and his impact is not going unnoticed. We had occasion to have an in-depth conversation with him at MPI WEC and his view of the industry at large, the role associations play, and the impact the business of meetings has globally is refreshing and clear.
BTW Richard - my final day selfie with you had 11 retweets, to a mere 4 of me *in bed* with @MeetMrHolland.
Tech Start Up Competition - results link. What is new is a key part of any great event and this year judge
s included Miguel Neves, Senior Online Community Manager at IMEX Group; Julius Solaris of Event Manager blog; Dahlia El Gazzar, CEO of the Meeting Pool; Liz King CEO of Liz King Events and Brandt Krueger, tech whiz and an industry instructor who translates geek to I get it. An excellent group all around and people I consider a key part of understanding how the many faces of technology are rapidly impacting our events.
Speaking of tech... Social Tables have continued to grow their team from their CEO Dan Berger to include a team of smart people who understand the role they have to play in creating the software for floor plans that will change the way we can choose to design our experiences. I always enjoy time spent learning (and in witty banter).
Campfire Boxes...
Maarten Van Neste and Dominika Fudula were there with the Meeting Design Institute banner flying high, but their role in the industry goes deep and wide. I consider myself creative, and I have lost many nights to thinking about better ways to design meetings and events but Maarten makes me look as if I never had a new idea. I appreciate this as it pushes me, and the ideas he shares, and the way he shares them continues to push us forward. I like that.
It was great to spend some time with my Event Alley co-host Brandt Krueger (Lindsey was too busy with her own events to join us). There are a number of people we interviewed on the Event Alley Show this year I had the chance to meet face-to-face, including Sam from Song Division along with his smartly down-to-earth boss Andy who were also a part of the CIC Hall of Leaders Gala, adding to the fun of the event. Bridging the career gap we had a great conversation with Jeff Leggett, and it was great to see him immersed here. One of the most articulate people with a wide perspective on the industry is the CEO of ICCA Martin Sirk, and this is one of the best interviews of the year. I was also so pleased at the FRESH dinner to be joined by Julius Solaris who again brings a deep understanding of the industry and its shifts.
Kiki L'Italien.
I always enjoy seeing live the lovely
Kiki.
She again conducted (for the fourth year) interviews from the Vancouver Booth
at IMEX. Known as a creator of extraordinary member experiences for associations, her forward thinking mindset combined with her fantastic attitude always make her a pleasure to be around. Her ability to share knowledge and to connect through warmth and empathy for the challenges we face, combined with a deep understanding of the modern tools to do this makes her an important voice in our industry.
Gerrit Heijkoop - when you open this site you will see it is in Dutch but when you meet Gerrit, or hear him speak it is easy to forget that English is not his first language. (note the Google translation is imperfect and often a little funny but I do not think he would even mind). You might notice his kinda famous red sneakers. I had not seen a presentation for a while from Gerrit, and the engagement from the audience was simply off the charts - which is a great thing in a sea of speakers! What I really appreciated was his philosophy of vivo.nu which translates to every day being a little bit different than the day before, and often different than you might have expected. I think many of us in this industry can relate to this! For IMEX he was brought in to support the social media experience (extraordinary) and is often seen as a host or doing interviews, a nice repertoire to include when you need to add a little bit (or more) of energy to your events.
And now... I rest and go to be woken in the middle of the night with those I missed!
Please add comments with your favorite people or moments or the posts you have done too following another amazing and intense show.